The Side Lying Leg Lift (or side leg lift) exercise is a beginner level Strength exercises in the Exercise for Better Bones program. This exercise targets the abductor muscles (the muscles of your upper hip and buttocks) and the hip bones.
Side Lying Leg Lift • Directions
This version of the side lying leg lift exercise is a  beginner level strength exercise. Here are the step-by-step directions you should follow to complete this exercise.
---
1. Exercise Mat or Carpet for Support
An exercise mat or a comfortable carpet is advisable when doing the side lying leg raise exercise.
2. Use a Small Towel at Your Waist
You want to have a small towel that you're going to place at your waist so that when you lie down on your side, the towel fills in the space.
3. Use Your Arm or Pillow to Support Your Head
You can either use your arm for support underneath your head or a pillow.
4. Get in Position
You're going to comfortably bend your bottom knee and your top knee is going to be straight in a line behind you.
What I've done is mimicked as if I was up against a wall.
My heel would be in that same line as my torso up against that wall.
My top hand I'm going to place right in front of me, and I'm going to allow myself to roll into my hand ever so slightly so that if I had a light shining off my hip bone, it would be hitting the floor about six feet in front of me.
I don't want you to be rolling back on this exercise, you want to just keep a slight forward tilt of the pelvis.
5. Now that You Are in Position …
In this position, take a breath in, and exhale, leading with the heel, lift, two, three, and back down.
If you find yourself lifting your leg quite up high, you can pretty well assure yourself that you've cheated.
What happens is, if we lift up high, we're using our front hip flexors and quadriceps rather than our hip abductors, which are in here and attached right close to a common fracture site.
We really want to get these glute muscles working here, and that really makes us much more stable when we walk and do a lot of exercises.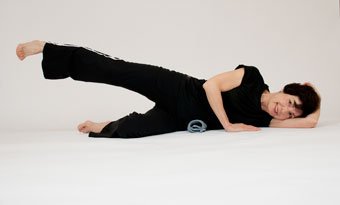 Again, hips slightly forward, focus on leading with the heel, hand in front, breath in, slowly, gently tighten your tummy as you lift the leg, holding and exhaling, and slowly back down.
And time to repeat, breath, and back down.
---
Side Leg Raise Tips
Here are a two tips that might help you when you practice the exercise.
If you hips are wider than your waist, you should place a small pillow or rolled towel in the space between your pelvis and rib gage as illustrated in the two immediate photos above.
Your top heel should remain in contact with the wall throughout the exercise.
---
Side Lying Leg Lift — Physical Therapy Guidance
The video below provides additional guidance for Physical Therapists when they work with patients and want to use the side lying leg lift exercise.
Osteoporosis Exercises
Visit my Osteoporosis Exercises page for more.