In today's blog post, I show how to move heavy objects. I demonstrate a number of lifting techniques that will reduce your chance of causing back pain or a compression fracture.  This is especially important for people with osteoporosis or osteopenia, and individuals with a history of low back pain.
Hire Someone
If you are unable to do a squat to move a heavy object, you should hire someone to do your heavy lifting. If you cannot do this or do not want to hire someone, follow the steps below.
How to Move Heavy Objects
For many of us, summer projects often involve moving heavy objects such as patio stones or rocks. During one of my many summer projects I thought it would be helpful to share a few tips that help me keep my spine happy:
Setup and Positioning
When you move a heavy object, leverage the item up when possible.
Use a sturdy stick under the corner of a rock to allow you to get a better grip and get it up a few inches.
Get in as close as you can to the object you plan to lift.
Widen your stance.
Remember to take in a breath before you start and exhale as you tighten your pelvic floor and deep abdominals to brace your back.
To protect your neck, keep you tongue relaxed and resting at the roof of your mouth.
Lift the Object
As soon as you move the heavy object, support your forearms on your legs as a transitional position.
Continue to push with your legs as you bring the object as close in to your body as you can safely do.
Use a sturdy resting point in moving the object when possible.
Avoid rotating your spine while holding the object.
Move your feet in the same direction as the load.
During the transition from point A to B keep the heavy objects as close to your body as you can and when possible rest it on your body.
Keep the load against or very close to your torso reduces the load on your spine.
When bringing the load back down, reverse what you did during the lift.
If it is essential that the object be placed in an exact location, you can transition to a squat position with your forearms resting on your thighs. This is a more restful position for your back and allows you to fine tune the final resting position of your object.
Plan the move and prepare the area to make it easier on your spine.
Learn to Move Heavy Objects. Incorporate Weekly Squats Into Your Life
I live in a climate that makes gardening accessible for about five months out of the year. During this short period there is a lot to get done. If you love to garden and plan to do it for many years to come, I encourage you to make squats a regular part of your exercise program.
Squats are one of the most functional exercises you can do. You cannot get on and off a chair without going into a squat. Make the squat exercise a regular part of your exercise program. It will help you when you move heavy objects and in many regular day-to-day activities. The squat has many significant benefits including strengthening your hip and spinal muscles and bones. It should become a regular exercise for any one concerned about the bone density in their femoral neck.
There are several types of squat exercises to choose from. Listed below are four squat exercises in order of challenge as they are presented in the Exercise for Better Bones program. Find one that feels comfortable for you and over time progress to a more challenging level.
Exercise Recommendations for Osteoporosis
It is really important to move heavy objects with proper form. However, you need to do more than that if you have osteoporosis.  Exercise is an essential ingredient to bone health. If you have osteoporosis, therapeutic exercise needs to be part of your osteoporosis treatment program.
But what exercises should you do and which ones should you avoid? What exercises build bone and which ones reduce your chance of a fracture? Is Yoga good for your bones? Who should you trust when it comes to exercises for osteoporosis?
A great resource on exercise and osteoporosis is my free, seven day email course called Exercise Recommendations for Osteoporosis. After you provide your email address, you will receive seven consecutive online educational videos on bone health — one lesson each day. You can look at the videos at anytime and as often as you like.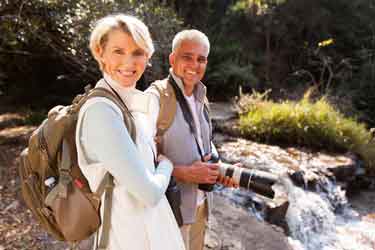 I cover important topics related to osteoporosis exercise including:
Can exercise reverse osteoporosis?
Stop the stoop — how to avoid kyphosis and rounded shoulders.
Key components of an osteoporosis exercise program.
Key principles of bone building.
Exercises you should avoid if you have osteoporosis.
Yoga and osteoporosis — should you practice yoga if you have osteoporosis?
Core strength and osteoporosis — why is core strength important if you have osteoporosis?
Enter your email address and I will start you on this free course. I do not SPAM or share your email address (or any information) with third parties. You can unsubscribe from my mail list at any time.
Conclusion to How to Move Heavy Objects
I hope that this blog has provided you with some tips on moving heavy objects safely and that it has encouraged you to stay strong over the fall and winter months. I wish you all many happy garden projects without the worry of straining your back. Follow the directions in this post, practice your squat and you will be better able to move heavy objects.