Here are twelve safety tips for raking leaves. When fall arrives and the leaves accumulate in the yard, I encourage my patients to follow these tips — especially those with osteoporosis, osteopenia, or low back pain.
Twelve Safety tips for Raking Leaves
Face your leaves while you rake.
Make a point of knowing where you are and what is around you so that you can walk backwards safely without tripping and falling.
Always rake the leaves towards you.
Keep your upper arms close to your body.
Pull the rake using movement from your legs (not just your arms) and step back as you rake.
Halfway through your job you should shift your raking activity to your other side. In other words, if you start raking from your left side then you should shift the raking effort to the right side as you cross the halfway mark of your job. This distributes the workload across your body avoiding fatigue or strain on one side of your body.
Avoid movements that involve flexion of the spine and adjust (or avoid) movements that involve extreme rotation.
Rotation of the body, while raking, can aggravate the back or bring on low back pain. I suggest you avoid this movement while raking.
Reaching out to rake leaves and extending your body places stress on your spine. Instead, move closer to the leaves.
In the video you will see that I am using a rake with a wide fan. You will also notice that I have a lot of leaves to gather and hence the need for the large fan. The challenge for many people who use large fans is that it requires a fair amount of strength.
If you do not regularly include strength training in your exercise program you would be safer to use a rake with a smaller fan.
It is best to rake when the leaves are dry (and light) and not when they are wet and heavy.
Benefits of Raking Leaves Safety Tips
Follow these twelve raking leaves safety tips and you will:
Reduce your risk of a compression fracture.
Avoid aggravating your back or neck pain raking your garden.
Exercise Recommendations for Osteoporosis
Exercise is an essential ingredient to bone health. If you have osteoporosis, therapeutic exercise needs to be part of your osteoporosis treatment program.
But what exercises should you do and which ones should you avoid? What exercises build bone and which ones reduce your chance of a fracture? Is Yoga good for your bones? Who should you trust when it comes to exercises for osteoporosis?
A great resource on exercise and osteoporosis is my free, seven day email course called Exercise Recommendations for Osteoporosis. After you provide your email address, you will receive seven consecutive online educational videos on bone health — one lesson each day. You can look at the videos at anytime and as often as you like.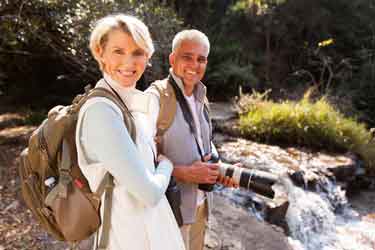 I cover important topics related to osteoporosis exercise including:
Can exercise reverse osteoporosis?
Stop the stoop — how to avoid kyphosis and rounded shoulders.
Key components of an osteoporosis exercise program.
Key principles of bone building.
Exercises you should avoid if you have osteoporosis.
Yoga and osteoporosis — should you practice yoga if you have osteoporosis?
Core strength and osteoporosis — why is core strength important if you have osteoporosis?
Enter your email address and I will start you on this free course. I do not SPAM or share your email address (or any information) with third parties. You can unsubscribe from my mail list at any time.