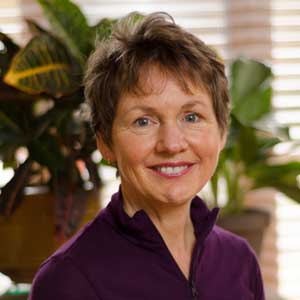 For the past 33 years I have treated clients with a wide range of orthopaedic and neurological conditions. I get great satisfaction assisting and coaching individuals in understanding their bodies so they can enjoy life free of pain, return to their favourite sport or activities.
I am a bilingual registered Physiotherapist, Certified Strength and Conditioning Specialist and Certified Nordic Walking and Yoga Instructor.  I am the owner of MelioGuide Physiotherapy.
I am trained in manual therapy, myofascial release, ergonomics for home and work, trigger point therapy release, exercise prescription, Yoga and Nordic Walking. I am skilled at treating a wide range of conditions.
Schedule a Time With Margaret Martin
Schedule time with me if you want to:
Develop an bone building exercise program.
Recover from an injury, fracture or joint replacement.
Avoid the flare-up of an old injury.
Review and refresh an old exercise program.
Ensure your current exercise program is safe and effective.
Take control of your body through the combination of education, hands-on therapy, and selection of intelligent exercise.
Services available in French and English. Services disponibles en français et en anglais.
Professional Journey
Since 1984 I have dedicated myself to helping individuals, like yourself, achieve their highest level of function and fitness.  I have worked at YMCAs, Yoga studios, hospitals, rehabilitation centres, community clinics, as well as industrial settings across Canada and the United States. Before I started MelioGuide, I owned two companies:  Injury Reduction in the Workplace and Full Swing – Golf Performance.
Award of Distinction
I am the proud recipient of the 2011 Award of Distinction from the College of Physiotherapists of Ontario for my significant contributions and achievements as a Physiotherapist.
Author and Educator
I am the author of three books dedicated to bone and core health: Exercise for Better Bones, Yoga for Better Bones, and Strengthen Your Core. My recent addition is a DVD you can follow along for your daily workout:  Stronger Bones, Stronger Body.
With much assistance from my husband, I developed two online courses for health care professionals: Working with Osteoporosis and Osteopenia and Building a Stronger Core. Working with Osteoporosis and Osteopenia is available at MedBridge Education.
I have published over 200 blog articles on melioguide.com dedicated to helping you optimize your posture, strength and balance.
About Margaret Martin
I am a high energy, caring person.
I practice what I preach.  My daily movements usually incorporates at least one of the following practices: Yoga, TaiChi, strength training, high intensity interval training, vigorous walks, and cycling. My diet is alkaline based with plenty of vegetables, locally farm-raised animal protein and legumes. My passions include nutrition, gardening, and mindful, intelligent movement.
My most significant contribution to society has been creating two outstanding human beings, John and Katherine. I am blessed to have the support and wonderful company of my husband, Richard.  I look forward to sharing another thirty years with him.