In this blog I demonstrate how to do three variations of the side lying leg lifts. These exercises are frequently called either side lying leg raises or side leg lifts. I state this because you might find other literature use these terms and I did not want to cause confusion. As you read this post you might notice that I use all three terms.
The side lying leg lifts are progressive. The first is the basic version done on the floor. The next version is also on the floor but incorporates weights to increase the challenge. Finally, in the third and last variation of the side lying leg raise, the client will perform the exercise on a stability ball.
This article was last updated on July 8, 2019
Benefits of Side Lying Leg Raises
I recommend side lying leg raises to my clients because they benefit three main areas:
Hip strength
Abductor muscles.
Hip bones, specifically the femoral neck.
Hip Strength and Knee Osteoarthritis
A 2006 study by Nigel Arden and other researchers found that "patients with a clinical diagnosis of knee osteoarthritis and with knee pain have an increased risk of non-vertebral and hip fracture. This is not explained by the increased risk of falls, but is more likely to be due to the severity of falls sustained. Knee pain and osteoarthritis should be regarded as independent risk factors for fracture." (1)
This, in turn, reduces the load on the knee. The reduced load on the knee limits the intensity of the fall and diminishes the chance of a fracture. (1)
Hip Abductor Strength
Abductor muscles provide stability when you walk or stand. Many things can lead to weak abductors including too much time spent sitting. Strong abductor muscles deliver significant benefits including improved balance and help when you need to do other exercises.
Further, a 2010 study showed that hip strengthening exercises, specifically of the hip abductor, help support the knee joint. The research team had the study group of patients with knee osteoarthritis complete a home hip abductor strengthening program. The team found that "the osteoarthritis group demonstrated significant improvement in hip abductor strength. Functional performance on the sit-to-stand test improved in the osteoarthritis group compared with the control group." (2)
The research team also reported that the "osteoarthritis group reported decreased knee pain after the intervention."
Finally, a study published in the journal, Osteoporosis International, in 2014 showed that stronger hip abductors improves your balance. The authors found that your ability to stand on one foot reduces your fall risk. (3)
Femoral Neck Strength
The femoral neck is located in the hip area. A stronger femoral neck reduces the risk of fracture for individuals with osteoporosis. You can learn more by reading my blog post on the femoral neck.
Understanding Hip Abductors
The hip abductors attach your pelvis to your femur bone. The two most robust hip abductors are your gluteus medius and your gluteus minimus.  Together these two muscles keep your pelvis steady when you walk.  Weakness in either of these muscles causes you to walk with a limp, reduce your ability to balance on one leg, and increase your risk of falling.
Trigger points in these muscles are a common cause of low back, buttock and leg pain.  It is important that you do not have trigger points in these muscles before you start working on exercises that will place more demand on them.  For more information on how you can self treat your tripper points, I highly recommend The Trigger Point Therapy Workbook, 3rd edition by Clair and Amber Davies. (4)
In their book, the Davies' wisely share this tip: "as a safeguard for the gluteus medius muscles, don't stand on one leg to put on your pants. You can easily strain a muscle when you catch your foot in a pants leg and unexpectedly have to catch your balance. Sit down to get both feet through, then stand to finish pulling your pants up. It may seem a little silly at first, but it's a habit that becomes increasingly valuable with passing years."
Many of my clients are afflicted with tenderness in their gluteus medius and minimus muscles.  I do not hesitate to tell them to keep their balance training to the exercises I gave them and not to when they put on their pants, shoes, boots, socks, etc.
Lastly, when doing side lying leg lifts, your therapist may ask you to do the lift with your knee cap pointing gently towards the sky (hip external rotation). This external rotation of your thigh places you in a position to strengthen the posterior portion of your gluteus medius. (2)
Side Lying Leg Lift
The three variations of the side lying leg lift exercise are:
Side Leg Lifts
Use a Weight with Side Lying Leg Raise
Perform Side Leg Lifts on Stability Ball
The specific side leg lift variation I recommend depends the client's current level of fitness and their health goals.
Let's start with the first Side Leg Lifts exercise.
Side Leg Lifts • First Variation
The side leg lifts exercise is a beginner level Strength exercises in the Exercise for Better Bones program. This exercise targets the abductor muscles (the muscles of your upper hip and buttocks) and the hip bones.
Directions
This version of the side leg lifts exercise is a beginner level strength exercise. Here are the step-by-step directions you should follow to complete this exercise.
Exercise Mat or Carpet for Support
An exercise mat or a comfortable carpet is advisable when doing the side lying leg raise exercise.
Use a Small Towel at Your Waist
Have a small towel that you're going to place at your waist so that when you lie down on your side, the towel fills in the space.
Use Your Arm or Pillow to Support Your Head
Use either your arm or a pillow for support underneath your head.
Get in Position
Lie on your left side, first. Comfortably bend your bottom knee. Your top knee is straight in a line behind you.
Make the same movement as if you are up against a wall.
Heel is in that same line as your torso up against that wall.
Place the top hand right in front of yourself.
Allow yourself to roll into your hand ever so slightly so that if you had a light shining off your hip bone, it would be hitting the floor about six feet in front of you.
Keep a slight forward tilt of the pelvis. Don't roll backward on this exercise.
Now that You Are in Position …
In this position:
Take a breath in.
Exhale.
Lead with the heel.
Lift … count  "two, three".
Lower leg back down.
If you find lift your leg up quite high, you can pretty well assure yourself that you've cheated.
If we lift up high, we're using our front hip flexors and quadriceps rather than our hip abductors. The hip abductors are attached close to a common fracture site, the femoral neck
We really want to get these glute muscles working.  That really makes us much more stable when we walk and do a lot of exercises.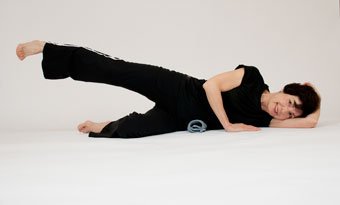 Again, follow these steps:
Hips slightly forward.
Focus on leading with the heel.
Hand in front.
Breath in.
Slowly, gently tighten your tummy as you lift the leg.
Hold and exhale.
Slowly lower leg back down.
Repeat, breath, and back down.
Tips
Here are a two tips that might help you when you practice the side leg lifts.
If you hips are wider than your waist, you should place a small pillow or rolled towel in the space between your pelvis and rib gage as illustrated in the two immediate photos above.
Your top heel should remain in contact with the wall throughout the exercise.
Physical Therapy Guidance
The video below provides additional guidance for Physical Therapists when they work with patients and want to use the side lying leg lift exercise.
---
Exercise Recommendations for Osteoporosis
The side lying leg lift exercises in this post will strengthen your hip abductors and femoral neck. But you need a comprehensive exercise program if you have osteoporosis.
In fact, exercise is an essential ingredient to bone health. If you have osteoporosis, therapeutic exercise needs to be part of your osteoporosis treatment program.
But what exercises should you do and which ones should you avoid? What exercises build bone and which ones reduce your chance of a fracture? Is Yoga good for your bones? Who should you trust when it comes to exercises for osteoporosis?
A great resource on exercise and osteoporosis is my free, seven day email course called Exercise Recommendations for Osteoporosis. After you provide your email address, you will receive seven consecutive online educational videos on bone health — one lesson each day. You can look at the videos at anytime and as often as you like.
I cover important topics related to osteoporosis exercise including:
Can exercise reverse osteoporosis?
Stop the stoop — how to avoid kyphosis and rounded shoulders.
Key components of an osteoporosis exercise program.
Key principles of bone building.
Exercises you should avoid if you have osteoporosis.
Yoga and osteoporosis — should you practice yoga if you have osteoporosis?
Core strength and osteoporosis — why is core strength important if you have osteoporosis?
Enter your email address and I will start you on this free course. I do not SPAM or share your email address (or any information) with third parties. You can unsubscribe from my mail list at any time.
---
Side Lying Leg Raise with Weight
The side lying leg raise with weight is a strength exercise that targets the abductor muscles and the hips. If you find this exercise too advanced, you should try the side leg lift exercise without weights (above).
Instructions
The side lying leg raise with weight is an intermediate level strength training exercise.
How to Get in Position
You'll need a weight to place on your ankle and a small roll to go underneath your waist.
Lie on your right side and ensure that the towel is right at your waist fold.
Place your arm underneath your head or a pillow.
Bottom leg comfortably bent.
Top leg is in line with your trunk, and up against the wall. This will enable cuing for you to bring yourself back and keep your leg in that alignment with your torso.
Perform the Exercise
In this position, roll your hips slightly forward.
If you had a headlight on your forehead, you'd want to be aiming toward about six feet in front of you so that you're not blinding people coming into the room.
Keep your leg back, hold, two, three, and slowly back down. One more time, breath in, lift leading with the heel, two, three, and back down.
Consider Adjusting the Weight Location
If you find that you have a weight that only allows you to get through six repetitions, you're going, take the weight and start with it higher up the leg.
You may want to purchase a weight that's a little bit heavier and start with your leg lifts with the weight closer to the knee.
The shorter the lever — the closer the weight is to the muscle that's working — the less heavy it's going to feel.
It might be the right intensity for you initially. As you get stronger, you gradually move the weight away from the muscle you're working so that, eventually, it's back at your ankle.
Tips
Here are a few tips to help you with this exercise:
If your hips are wider than your waist, place a small pillow or rolled towel in the space between your pelvis and rib cage.
Your top heel should remain in contact with the wall throughout the exercise.
The closer to the ankle the weight is located, the heavier it will feel.
If you are unable to do the required number of repetitions with the weight at your ankle, start with it resting on your thigh above the knee and slide it down as you get stronger.
---
Side Leg Lifts on Stability Ball
The Side Leg Lifts on Stability Ball is a strength exercise from the Exercise for Better Bones program specifically designed for the Elite Level. The exercise targets the hip abductor muscles. It also targets the bones in the wrist and hips. This exercise should only be done with the correct sized and safe burst resistant physio or exercise ball.
Instructions
The following are the instructions for the side lying leg lifts on a stability ball.
You need the ball to be the right size for you. If you're not 100% sure please go refer back to the ball size recommendations.
You want to be in side kneeling position.
Place the ball right up against one hip.
Take your hand and place it right underneath your shoulder.
Tuck the ball with your elbow, so you're tucking the ball with your hip and your elbow.
Step on the outside of your ankle so your hand and your foot are in the same line.
Other leg sits on top.
If this is a new exercise for you, you can place your hand on the ball for a little additional stability.
Your head is in line with your body, so it's a nice neck strengthening exercise as well.
Take a breath in and lead with your heel.
Lift up towards the ceiling and back down.
Again, lift up towards the ceiling and back down.
If you want to make this exercise a little harder you can incorporate the arm and leg lift into the exercise.
Congratulations. You have mastered the elite level side leg lifts on a stability ball.
References
Arden, NK, et al. Knee pain, knee osteoarthritis, and the risk of fracture. Arthritis Care & Research. Volume 55, Issue 4, Pages 610-615, 15 August 2006.
Sled EA, et al. Effect of a home program of hip abductor exercises on knee joint loading, strength, function, and pain in people with knee osteoarthritis: a clinical trial. Physical Therapy, 2010 Jun;90(6):895-904. doi: 10.2522/ptj.20090294. Epub 2010 Apr 8
Lundin, H., Sääf, M., Strender, LE. et al. Osteoporos Int (2014) 25: 1305.
Clair Davies and Amber Davies. The Trigger Point Therapy Workbook, 3rd ed.New Harbinger Publications 2013.
Shirley Sahrmann.  Diagnosis and Treatment of Movement Impairment Syndromes. Mosby publishing 2002.
Osteoporosis Exercise Plan
Visit my Osteoporosis Exercise Plan page for more information on this topic.