The stronger your bones, the greater their ability to withstand fracture. However, what is the best way to assess strength of your bones? Why do we only get bone mineral density (BMD) tests and not bone quality tests?
This article will answer that question as well as define bone quality, discuss how we measure it, provide guidelines on how to improve bone quality, and explore the relationship between bone quality and osteoporosis.
How to Assess Bone Strength: Bone Density or Bone Quality?
Medical professionals assess bone health with a Dual Energy X-ray Absorptiometry (DEXA) that measures bone mineral density (BMD).
They frequently use this score to estimate your risk of fracture, select your best treatment options, and determine whether you should or should not take osteoporosis medication.
However, it has been know for over a decade that the DEXA test is not as reliable a measure of bone strength as originally thought. (1)
Bone Mineral Density (BMD) and Fracture Risk
In fact, several studies have shown that many fractures occur in people with only moderately decreased bone mineral density. (2,3)
Further, half of all postmenopausal fractures occur in women with bone mineral density (BMD) test results that indicate that their bone density levels are not low enough for them to be categorized as having osteoporosis. (4)
In addition, the results of the BMD test often determine whether you end up on medication or not. The most popular osteoporosis medications, both bisphosphonates and Prolia, are frequently prescribed to increase the density of bone.
These medications increase bone density, but do not necessarily improve the quality of bone.
Definition of Bone Strength
In his review, Bone Quality: The Determinants of Bone Strength and Fragility (5), published in Sports Medicine in 2013, Dr. Helder Fonseca defines bone strength as "the maximal amount of load tolerated before structural failure occurs."
Dr. Helder explains the relationship between bone strength and the risk of fracture: "Failure gradually builds within the [bone] material as micro-cracks develop. Strains [eventually] reach an unbearable critical limit. Bone strength and toughness are therefore highly dependent on the ability of the bones to dissipate the stresses that lead to increases in strain, as well as by the micro-structural properties that prevent crack propagation."
This explains why a vertebral compression fracture is the result of the build up of small micro-cracks that develop over time and eventually lead to a fracture.
The next section throws colour on how bone strength and in particular, bone structure, influence frailty and eventually the chance of fractures.
Bone Strength and Fracture Risk
In 2016 Dr. Georg Osterhoff and colleagues published a report in the journal Injury, entitled Bone mechanical properties and changes with osteoporosis (6), that examined the relationship between bone quality and osteoporosis. Dr. Osterhoff reported several important findings.
Bone Fragility and DEXA
First, Dr. Osterhoff states: "The assessment of bone mineral density (BMD) as a surrogate marker of bone strength using non-invasive methods like dual-energy X-ray absorptiometry (DEXA) is widely regarded as the gold-standard for diagnostic screening and as a guide prior to therapeutic decisions.
However, BMD accounts for only 60% of the variation in bone fragility, because it is unable to depict differences in bone material composition and structural design. Both characteristics influence bone strength to a large extent."
In other words, while DEXA evaluation of BMD as seen as the "gold standard", it can only account for 60% of the measure of bone fragility.
Bone fragility reflects the ability of your bones to resist fracture (discussed in more detail later in this post.)
As a result, you could receive a good BMD score, but there still is the risk of a fracture because the DEXA cannot evaluate "bone material composition and structural design", or bone structure.
Bone Fragility and Movement Patterns
Second, Dr. Osterhoff notes that when we evaluate bone, we should consider its ability to withstand different movement patterns, such as rotation, and lateral movements. He explains this here:
"The unique mechanical properties of bone reflect the need to provide at the same time strength and lightweight design, stiffness and elasticity, the ability to resist deformation and to absorb energy."
These dynamic movements happen in everyday life when you exercise, work in your garden, pick up your grand children or shop for groceries.
Bone is both strong and pliable. It is not a rigid structure.
Bone Fragility and Trabecular Connectivity
Third, Dr Osterhoff reports that: "Ageing and other factors like estrogen deficiency can affect these components and eventually result in decreased bone strength and fracture toughness."
He also states that: "Osteoporotic fractures are the macroscopic result of a sequence of multiple nano- and micro-structural events."
The source of these osteoporotic fractures is the inability of our bone to withstand different types of loads.
Later in this post we will talk about the different types of bone and their role in resisting fracture. However, at this time I should point out that trabecular (also referred to as cancellous) bone composition plays a critical role in whether you experience a fracture or not.
Dr. Osterhoff states in his report that: "trabecular connectivity inside a bone contributes more to the bone's biomechanical strength than the trabecular thickness or the bone mineral density."
Recent medical research demonstrates that good bone structure (or bone quality) is more important than the density of your bones when determining the strength of your bones (and their ability to resist fracture.)
Unfortunately, the BMD test or DEXA does not provide information on the quality of your bone or any insight into the architectural structure of your bones.
I asked Dr. Janet Rubin to define bone quality. Dr. Rubin is the Sarah Graham Kenan Distinguished Professor and Vice Chair for Research at the Department of Medicine of the University of North Carolina in Chapel Hill. She is also the Professor of Medicine in the Division of Endocrinology and Metabolism, a Joint Professor in Pediatrics and Pharmacology, and Adjunct Professor for Bioengineering.
In the interview below, Dr. Rubin explains that "bone quality is the architecture of the bone. It has to do with how bone is made, the cortical margin, the fabric of the trabeculae inside the bone, and porosities in the cortical part. Bone quality represents the material properties, where the materials are, and the architecture of the materials."
Bone quality is an essential ingredient in bone structure and strength, as well as the bone's ability to resist fracture. A major challenge is how to easily measure bone quality.
Dr. Helder explains in his paper (5) that "bone mineral density (BMD) … is only able to provide insight regarding the quantity of bone tissue. [It is] insufficient as a measure of bone quality, given that bone strength is dependent on a large variety of interconnected factors."
Bone Quality and Osteoporosis — Definitions and Discussion
To gain a better understanding of the relationship between bone quality and osteoporosis, we need to cover bone anatomy in some detail.
Bone tissue (or osseous tissue) refers to the bone. There are two types of bone tissue: cortical bone and cancellous (trabecular) bone.
An individual bone can be composed of both cortical and cancellous bone, and the relative mix of the two types varies from bone to bone in your body.
Cortical bone (sometimes referred to as compact bone) forms the cortex or outer shell of most bones. It is much denser, rigid and stronger than the other type of bone tissue, cancellous bone.
Cancellous bone (also referred to as trabecular or spongy bone) appears at the end of long bones, at the points of attachment of joints, and within the interior of the vertebrae. It has a greater surface area and is more porous, softer, less dense, and less stiff than cortical bone. As a result, cancellous bone is more affected by osteoporosis than cortical bone.
Vertebral Body
Because the vertebral (spinal) area is largely composed of cancellous (trabecular) bone, it is at a greater risk of osteoporotic fracture when compared to other parts of the body.
The image to the right shows a cross section of the vertebral body.
The vertebral body is the portion of the spinal column facing into the body. Note how the porous structure of the trabecular bone varies depending on the quality of the bone.
The vertebral body at the top of the spinal column is healthy, as indicated by the dense trabecular bone.
The vertebral body at the bottom of the spinal column segment has been compressed (a compression fracture) because of the reduced trabecular bone. The bone quality in this case has been compromised.
Cancellous bone is composed of many individual and interconnected trabecula.
Trabecula is a small, microscopic tissue element.
They look like beams ("trabecula" is Latin for "small beam") and are often in the forms of small rods or plates. The plural of trabecula is trabeculae.
When we talk about bone quality and osteoporosis, we are specifically referring to the quality of the cancellous or trabecular bone. Bone quality is defined as the sum of the structural and material properties of the trabecular bone.
Think of trabecular bone as similar to the scaffolding that holds a building up.
A building composed of concrete is solid but rigid and inaccessible. Instead the building should have support beams, struts, and strong interconnected pieces that allow the building to stand tall and flexible at the same time.
Either through ageing, disuse, or disease, the interconnected trabecular bone interconnections begin to break down. Even with anabolic therapy, it's very rare that trabeculae reconnect. Although there may be a build up of bone density, there still can be a loss of bone quality.
Trabecular Bone and Bone Structure
Bone structure is the composition of the trabecular bone inside the bone. Trabecular or cancellous bone is made up of many interconnected trabeculae either in the shape of a rod or a plate.
The illustration above shows a microscopic view of a trabecular bone. Note the mix of flatter, plate-like trabecula interweaved with the narrower, rod-like trabecula in the top left of the image.
The more of the thicker plate-like trabeculae present in the structure as compared to the thinner, rod-like trabeculae, the better the quality of the bone.
The better the bone quality, the stronger the bone.
Trabecular bone that has seen its plate-like trabecula replaced by rod-like trabecula is weaker, osteoporotic, and more at risk of a fracture. This change can occur over time and is dependent upon the individual's family history, as well as exercise and nutritional history.
Note the higher frequency of plate-like trabecula in the bone structure of the normal trabecular bone (top left of image) when compared to the bone structure of the osteoporotic trabecular bone (bottom right of image). In addition, the osteoporotic trabecular bone has more rod-like structures.
The material properties refer to substances or matter such as collagen and minerals that make up the bone.
Exercise Recommendations for Osteoporosis
Exercise is an essential ingredient to bone health. If you have osteoporosis, therapeutic exercise needs to be part of your osteoporosis treatment program.
But what exercises should you do and which ones should you avoid? What exercises build bone and which ones reduce your chance of a fracture? Is Yoga good for your bones? Who should you trust when it comes to exercises for osteoporosis?
A great resource on exercise and osteoporosis is my free, seven day email course called Exercise Recommendations for Osteoporosis. After you provide your email address, you will receive seven consecutive online educational videos on bone health — one lesson each day. You can look at the videos at anytime and as often as you like.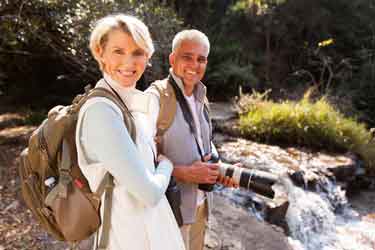 I cover important topics related to osteoporosis exercise including:
Can exercise reverse osteoporosis?
Stop the stoop — how to avoid kyphosis and rounded shoulders.
Key components of an osteoporosis exercise program.
Key principles of bone building.
Exercises you should avoid if you have osteoporosis.
Yoga and osteoporosis — should you practice yoga if you have osteoporosis?
Core strength and osteoporosis — why is core strength important if you have osteoporosis?
Enter your email address and I will start you on this free course. I do not SPAM or share your email address (or any information) with third parties. You can unsubscribe from my mail list at any time.
Age, Bone Loss and Localized Fractures
Trabecular bone — due to its lesser density when compared to cortical bone — accounts for approximately 20% of the skeletal bone mass. However, trabecular bone is responsible for most of the bone turnover during the early stages of osteoporosis (people under the age of 65).
As a result, Dr. Fonseca (5) states "vertebral compression fractures, being 'trabecular fractures', are more common in individuals aged less than 65 years."
Conversely, as we age cortical bone becomes more and more porous and weaker. Dr. Fonseca notes that "with increasing cortical bone loss after the age of 65 years, hip fractures, being 'cortical fractures', become more frequent."
Bone Location and Fracture Risk
Bone is subject to a number of forces as we move — specifically compressive and shearing loads.
In his paper (6), Dr. Osterhoff points out that "each bone's location in the body and the forces acting on it determine its characteristic microstructure and composition."
He points out that "vertebral bodies must resist high and repetitive axial compression loads." Further, they "experience much less shear or tension loads. If the trabecular bone is [reduced in] a vertebral body, this leads to increased cortical shell stresses and a disproportionate decrease in the vertebral bone's ability to withstand compression forces."
In other words, if the trabecular struts within the vertebral body diminish, the pressure is placed on the cortical bone to support the compressive forces through the spinal column.
"The femoral neck, on the other hand, is mainly subjected to shear forces and bending — the latter of which creates a combination of compression, tension, and shear."
This makes intuitive sense. The hip area must support every day movements that include bending and squatting. As the bone quality diminishes in the femoral area, the risk of a femoral fracture increases correspondingly.
Bone Quality and History of Physical Activity
Your history of physical activity throughout your life can affect the bone quality in different locations. In March 2020, Dr. Carrie Anne Ng (and colleagues) at Monash University published a paper (7) in the journal Osteoporosis International entitled Associations between physical activity and bone structure in older adults: does the use of self-reported versus objective assessments of physical activity influence the relationship?.
In the paper, Dr. Ng examined the effects of physical activity (during different periods) on bone locations. Dr. Ng stated: "In postmenopausal women with low bone mineral density (BMD), current physical activity (PA) was positively associated with femoral neck BMD and microarchitecture. Past PA was positively associated with tibial microarchitecture."
In other words, current thinking is that physical activity you do today (or recently) can positively influence the BMD in your femoral neck area. Whereas, the BMD in the tibial microarchitecture (locate near the ankle and a reasonable proxy for trabecular bone in the spine) is mostly influenced by physical activity you did in your early years (including your youth).
Fifty community dwelling postmenopausal women were recruited for the study and subject to physical activity. Bone structure was assessed by lumbar spine and hip dual-energy X-ray absorptiometry (DEXA), 3D modelling algorithms (3D-SHAPER) of hip DXA scans and distal tibial high-resolution peripheral quantitative computed tomography (HR-pQCT) scans. We will define HR-pQCT in the next section of this post.
After examining the data, Dr. NG concluded that "past physical activity [had] lasting benefits for trabecular microarchitecture, and current physical activity [was] positively associated with cortical bone."
If you are young you can influence the bone structure of your spine (specifically the trabecular bone) through physical activity. Fortunately, you can influence the cortical bone in your femoral neck area with physical activity today.
How to Measure Bone Quality
There are several methods to measure bone quality. I will discuss the two most significant techniques.
High Resolution peripheral Quantitative Computed Tomography (HR-pQCT)
High Resolution peripheral Quantitative Computed Tomography (HR-pQCT) provides high resolution, three-dimensional monitoring of the architectural structure of bone. Because it is able to provide a microscopic view, it can be used to determine the quality of the bone.
However, this technology is much more expensive than the BMD test or DEXA test. In addition, HR-pQCT examination is not readily available as DEXA machines.  As a result, the use of HR-pQCT is usually reserved for special cases and research studies.
Trabecular Bone Score (TBS)
The Trabecular Bone Score (TBS) provides insight into variations in the DEXA score targeted at the lumbar spine region. As a result, it provides a measure of bone structure, microarchitecture, and quality.
The TBS is a piece of software that works with the DEXA machine. It is not widely available and, as a result, not accessible to everyone.
Bone Quality Matters
Given that the measurement of bone quality is largely inaccessible to the majority of people, should we leave bone quality aside and rely upon the BMD as a compass for bone strength? I believe that the answer to that question is "no".
New research indicates that the quality of your bone structure can greatly influence whether you sustain a fracture or not. We also have determined that there are activities we can pursue that will improve the quality of the bone.
For example, a study (8) presented at the 2010 American Society of Bone Mineral Research (ASBMR) meeting in Toronto explored the differences of the trabecular bone in postmenopausal women who had fragility fractures with those of women in the same age group who did not sustain a fragility fracture.
Researchers compared 101 control subjects who had not fractured to 68 women who had sustained fractures from a fall or slip from a standing height or lower position.  The research team discovered that the DEXA scores of both groups were similar.  However, the quality of the bone in the fracture group was much less than that of the group that did not fracture.
Another study (9) suggests that people who are more active through exercise have better bone quality than people who are inactive: a review of data from 6,032 women of mixed ethnicity between the ages of 50 and 79 years found that the most active women in the group had geometrically stronger femurs, or thigh bones.  The bones had more resistance to bending.
As I mentioned earlier in the post, you can have a good bone mineral density score as measured by a DEXA exam. However, your risk of a fragility fracture might be elevated largely due to your reduced bone quality.
Conditions such as diabetes, chronic kidney disease, amenorrhea, and eating disorders can deteriorate bone quality.
Some clinicians use the FRAX in concert with the DEXA results to estimate fracture risk.
In the video interview, I asked Dr. Rubin to describe bone fragility.
Factors That Affect Bone Quality
In this section, we cover the numerous health conditions and pharmaceuticals that can negatively impact your bone quality.
Co-morbidities, Pharmaceuticals and Bone Health
The following medical conditions can affect the quality of your bones:
Diabetes (Type 1 or type 2)
Hormone deficiencies (estrogen, testosterone, thyroid, parathyroid)
High doses of thyroid medication
Malnutrition or malabsorption diseases
Cancer and cancer treatments
Organ transplants
In addition, there are over fifty secondary causes of osteoporosis and over twenty pharmaceuticals that can negatively impact your bones. Speak to your doctor/pharmacist about possible alternatives if you are currently taking a pharmaceutical that has been linked to lower BMD.
Genetics and Bone Health
We cannot control everything in life. We don't get to choose our parents, however, genetics play a big role in the quality of our bones.
If you have a parent who has sustained a hip fracture (or if you have had low trauma fracture on one of your vertebra or long bones of your arms or legs while under the age of 45) you will likely be more susceptible to future fractures.
How to Improve Bone Quality
In this section I identify steps can you take to improve bone structure and the quality of your bones. Let's start with exercise.
Resistance Exercise and Bone Health
In their 2018 publication, Effects of Resistance Exercise on Bone Health (10), Hong and Kim state that "resistance exercise (RE) is known to be highly beneficial for the preservation of bone and muscle mass."
They define resistance exercise (RE) as "a physical conditioning program that enhances fitness, health, and sports performance, using a variety of training modalities such as free weights, weight machines, medicine balls, elastic bands, and different movement velocities."
Hong and Kim conclude that "based on the available information, RE, either alone or in combination with other interventions, may be the most optimal strategy to improve the muscle and bone mass in postmenopausal women, middle-aged men, or even the older population.
In particular, resistance exercise seems to be beneficial for the cortical bone."
Studies going back to 1984 (11) show that the type of exercise is equally as important to protect from fractures.
Lifestyle choices and Bone Health
Your lifestyle choices can affect your bone quality.
If you currently smoke, do your most to stop smoking.
Do not exceed 2 alcoholic drinks a day.
Reduce your intake of processed foods such as pastries, pizza, french fries, snacks and refined grains.
Reduce your intake of protein intake from cheese and processed meat.
Build your diet around vegetables, fruit, whole grains and healthy protein choices.
Maintain a healthy body weight to ensure you maintain regular menstrual cycles.
Nutrition and Bone Health
In the article, Nutrients and Dietary Patterns Related to Osteoporosis, the authors write that "overall, adherence to a healthy dietary pattern including fruit, vegetables, whole grains, poultry, fish, nuts and legumes, and low-fat dairy products and the avoidance of processed food products will be beneficial for bone health, decreasing the risks of osteoporosis and fractures." (12)
The article is a must read for those looking to optimize their diet for their bones. Here are a few highlights:
Magnesium
Magnesium is important in bone health. It Is involved in osteoblast proliferation.
Magnesium deficiency is associated with reduced bone formation (12). It is necessary for the activation of vitamin D and it affects bone quality by its influence on the hydroxyapatite crystal size and formation.
Protein
The European Society for Clinical and Economic Aspects of Osteoporosis and Osteoarthritis (ESCEO) recommends a dietary protein intake of 1.0–1.2 g/kg body weight/day, with at least 20 to 25 g of high-quality protein at each main meal." (12)
The authors go on to say that "adequate protein intake is imperative for bone matrix formation and maintenance." (12)
Consumption of adequate protein when strength training has been shown to improve the accretion of protein.
Ensuring adequate protein intake while strength training is an "important contributor to the maintenance of bone strength.
Other Nutrients and Foods
A bone healthy diet includes a number of other nutrients and foods, including Vitamin K2, calcium, prunes, among others. A healthy gut microbiome improve absorption of nutrients can play an important role in bone health.
Conclusions
High resolution computer imaging technology has helped researchers learn more about bone strength, the importance of bone quality, and the limitations of solely relying on bone density to determine bone strength.
From these developments, we can conclude the following:
BMD and Bone Quality
First, remember that your DEXA score is one variable in the overall equation in determining your bone strength. But it is not the be all and end all.
If you get a bone density score that is less than optimal, consider it an early warning signal indicating symptoms of osteoporosis. Unfortunately for many people the first sign of poor bone quality is a fracture.
Use the BMD score as an opportunity to take stock of all the variables that can affect your bone health.
Bone Quality, Bone Strength and Exercise
Second, the quality of your bone structure is very important in determining the strength of your bones and their ability to resist fracture.
It appears that people who are physically active have better quality bone structure. Create opportunities for safe movements and effective exercise that can influence the quality of your bone.
Balance Training
Third, your exercise plan should include balance training along with strength training.
Better balance leads to fall reduction. A lower fall risk leads to a reduced incidence of fracture.
Nutrition, Lifestyle Choices and Bone Quality
Fourth, make dietary and lifestyle choices that help your skeleton support you for your lifetime.
Low Intensity Vibration Therapy
Lastly, if you are limited in your exercise regimen, consider low intensity vibration therapy as a surrogate to an exercise program.
Bottom line: bone quality matters. Eat well and incorporate physical activity into your bone health regimen. Consult with a qualified professional knowledgeable in movement and bone health to ensure safety and efficacy.
Further Readings on Prevention
Beck TJ et al. Confounders in the Association between Exercise and Femur Bone in Postmenopausal Women. Med & Sc in Sports & 2011 Jan;43(1):80-9. doi: 10.1249/MSS.0b013e3181e57bab.
McDonnell et al. Ann Biomed Eng 2007
Delmas PD et al. J Bone Miner Res 2005
Schuit SC et al Bone 2004
Fonseca H, et al. Bone Quality: The Determinants of Bone Strength and Fragility. Sport Medicine. October 3, 2013
Osterhoff G et al, Bone mechanical properties and changes with osteoporosis. Injury. 2016 Jun; 47(Suppl 2): S11–S20.
Ng C-A, et al. Associations between physical activity and bone structure in older adults: does the use of self-reported versus objective assessments of physical activity influence the relationship? Osteoporosis International. 2020 Mar;31(3):493-503. doi: 10.1007/s00198-019-05208-y. Epub 2019 Nov 13.
Liu XS et al. Fewer Trabecular Plates and Decreased Connectivity Between Plates and Rods is associated with Reduced Bone Stiffness in Postmenopausal Women with Fragility Fractures.  Columbia Univ. NY. Poster presentation at the 2010 ASBMR Toronto.
Beck T, et al. Confounders in the association between exercise and femur bone in postmenopausal women. Med Sci Sport Exercise. 2011 Jan;43(1):80-9. doi: 10.1249/MSS.0b013e3181e57bab.
Hong A, Kim S. Effects of Resistance Exercise on Bone Health. Endocrinology Metabolism. 2018 Dec; 33(4): 435–444.
Sinaki M, et al. Postmenopausal spinal osteoporosis: flexion versus extension exercises. Arch Physical Med Rehabilitation. 1984 Oct;65(10):593-6.
Muñoz-Garach A, García-Fontana B, Muñoz-Torres M. Nutrients and Dietary Patterns Related to Osteoporosis. Nutrients. 2020;12(7):1986. Published 2020 Jul 3. doi:10.3390/nu1207198